JIM MEHRER'S POSTAL HISTORY
REFERENCE LITERATURE:
VARIOUS SPECIALTY TOPICS
Below is a list of Reference Literature that we currently have available about Various Specialty Topics. With these references, collectors and dealers can identify and evaluate thousands of different postmarks.

Most of these books are regular stock items, but some are available in limited quantities. As an example, the total printing of my Illinois Post Offices book was 418 copies. More than two-thirds of those have been sold since it was published in February, 1996, and I do not plan to reprint it. Such limited-edition titles are often difficult to obtain once the original printing is sold out.

PUBLISHERS: If you have any reference literature that you would like to make available through this page, please email

mehrer@postal-history.com , call or write to discuss terms.

DEALERS: If you would like to stock any of the literature that we publish (those showing Jim Mehrer as the author), we give generous wholesale discounts at low quantities.
Email

mehrer@postal-history.com, call or write for details.

ORDERING INFORMATION:
We accept payment by check or money order in U.S. funds.
Before the price of each item is a 6-digit item number. When ordering, please indicate the item number and a few words from the title.
To place orders by regular mail, send your check or money order (in U.S. funds) payable to:
Jim Mehrer
2405-30th Street
Rock Island, IL 61201
USA
ALL BOOKS ARE PRICED POSTPAID IN U.S.
INTERNATIONAL ORDERS: Before ordering, please email us for the shipping charge.
ILLINOIS RESIDENTS: Add 8.5% state sales tax to your order.
We do not accept CHARGE CARDS, and HERE'S WHY: Card companies would take about 5 percent off the top of whatever we sold. We don't feel like giving it to them, and we would rather not raise all of our prices just for the sake of handling charge cards. (Before you write and tell us that we can negotiate a better deal than 5 percent, we know that. But whether it's 3 or 4 or 5 percent, we still don't feel like raising the prices to "cover" it, as they say.) We were accepting payments through an online payment service for awhile, but then they started charging for their services, too. Maybe things will change someday.
We regret that we're unable to send "bill with" orders, but that just adds to the paperwork, and we've got plenty to do without the extra load. Exceptions: If you're a long-time customer of ours, and you're experiencing some kind of major "reference literature emergency" that won't allow you to wait a couple of extra days, give us a phone call (309 / 786-6539) and we'll discuss the possibilities.

---
REFERENCE LITERATURE:
VARIOUS SPECIALTY TOPICS
---
Guide to United States Vending and Affixing Machine Perforations 1907-1927. (Steven R. Belasco/2009): This is the first book in more than 65 years to tell the fascinating and complex story of the proprietary coils developed by manufacturers of stamp vending and affixing machines in the 20th century. This Guide covers more than 250 varieties of coil stamps made by the six companies that created these perforations and discusses their history, proprietary perforations, stamps to which the perforations were applied, scarcity of these stamps on and off cover, and factors to be considered to identify the many fakes of these coils. (220 pages; hardbound.) #790607. $55.00.
__________
Postmarks of U.S. Expositions / 3rd Edition, on CD-ROM. (David Savadge/2007): This edition of William J. Bomar's original work contains many recently discovered postmark types; dozens of earliest and latest usage date extensions; and hundreds of pages of new, updated and corrected information. Built on the groundbreaking first edition (1986) and the much improved second edition (1996), this expansive update was compiled and edited by Dave Savadge.
As with the previous editions, this work includes valuations for each postmark type, many which reflect the prices realized for material from Bill Bomar's own collection. (We had the privilege of offering that material in our own Postal History Mail Bid Sales.) In addition to the major events that were covered in Bomar's works, Dave has included information and illustrated material from a couple of dozen smaller expositions.
The text is also accompanied by hundreds of illustrations, many in full color. Included are more than 50 images of items from the Bomar collection. Used here by permission, they were among the nearly 1,000 images contained in our 1999 publication, "The Bomar Exposition Exhibit on CD-ROM." (802 PDF file pages on CD-ROM.) #770602. $56.00.
__________
Postmarks of U.S. Expositions / 2nd Edition. (William J. Bomar/1996): This is the much-expanded and updated second edition of this essential reference. The original edition was a breakthrough publication in this popular collecting area, and the second edition is loaded with additional and updated information. Containing descriptions of all of the known postmarks related to U.S. Expositions, as well as detailed information about the Expos themselves (costs, attendance figures, etc.), the first edition achieved new standards in postal history reference literature. After that, new discoveries increased the reported data by about thirty percent. Much information was added to the second edition, and many earliest and latest uses were amended. Several sections were expanded, and much of the Panama-Pacific International Exposition section is entirely new to the second edition! (277 pages; softbound.) #970380. Price on Request.
__________
Western Express on CD-ROM. (Western Cover Society/20056): All 55 Years of the Western Cover Society's journal, "Western Express," on a CD-ROM! Every issue of "Western Express" from 1950 through 2005 has been scanned and stored
on a CD-ROM as fully searchable PDF files. No need to fumble through those old-fashioned paper copies of "Western Express" to find the subjects you are looking for. No more digging through old manual paper indexes. Also, if you are not already a member of the Western Cover Society, you will receive a complimentary one-year membership to the Society, which includes a one-year subscription to "Western Express." #760401. $60.00 postpaid, worldwide..
To see a list of other reference literature available on CD-ROM, CLICK HERE..
__________

The BOMAR EXPOSITION EXHIBIT on CD-ROM: Full-color scans of every item from William J. Bomar's Exposition Exhibit. Nearly 1,000 GIF images of more than 300 covers and cards: full scans, plus enlarged close-ups of the postmarks, illustrated ads, etc. Includes his last purchases, which were never exhibited, but many which were surely destined to be added to the frames. This is your chance to see this important exhibit as it was presented, before it was offered for sale, piece by piece. PC FORMAT: #990301. MAC FORMAT: #990302. $40.00. Outside U.S.: $45.00 postpaid.
To see a list of other reference literature available on CD-ROM, CLICK HERE.
__________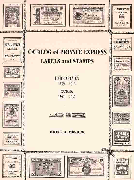 Catalog of Private Express Labels and Stamps: United States 1839-1918 / Canada 1841-1926. (Bruce H. Mosher/2002): Illustrated and priced listings of over 3000 labels, stamps and corner cards issued by American and Canadian private express and private delivery companies between 1840 and 1926. Contains the most comprehensive listing of North American private express/delivery emissions ever published. Over 2100 items are illustrated. Listings were compiled from more than 50 different sources including private collections, auction catalogs and published handbooks and articles.
- Company Types (525+ companies): Package/Parcel Expresses; Private Mail Expresses; Parcel Delivery/Despatch businesses; Package Messenger businesses; Special Delivery businesses; Phantom (nonexistent) Expresses.
- Listed Express Items: Corner cards (145+); Complimentary franks/passes (100+); Labels (1790+); Stamps (900+); Bogus labels and stamps; Forged labels and stamps.
- Three geographical company sections: I. United States; II. Canada; III. Overseas.
- Unique Catalog numbers for each listed item (Mosher Numbering System).
- Cross references to all relevant Springer Handbook numbers.
- Many contemporary on-cover-usage/cancellation dates are cited.
- Short description and business operating years of many listed companies.
- Over 70 different express company references plus 26 Bibliography references.
(224 pages; softbound.) #740113. $39.00.
__________
With the Zeppelin to South America, Diary of the Round Trip 1931. (Bruer/2002): Based on author's diary & photographs during the flight, with English & German texts. (196 pages; softbound.) We have ONE copy available. #890634. $30.00.
__________
Zeppelin Plus, Adventures-History-Philately. (Moroz/2001): Stories of airship aviation with some results of auction material, with illustrations. (116 pages; softbound.) We have ONE copy available. #890635. $30.00.
__________
Catalog of United States Perfins. (Stephen Endicott/2018): A detailed and comprehensive reference containing illustrations and descriptions of all known U.S. perfin types, with a scarcity guide for each. Not a postal history reference per se, but still an invaluable reference for collectors and dealers in perfins, on or off cover. (nearly 1,000 pages; unbound, 3-hole punched.) #740104. $95.00.
__________
Prexie Postal History / 2nd Edition. (Edited by Richard W. Helbock/2003): Originally published as part of the LaPosta Monograph Series, Prexy Postal History was the first book devoted to the subject of the 1938 Presidential Series. Five authors discuss their personal approaches to collecting and exhibiting postal history associated with this popular set of stamps. This second edition takes advantage of several improvements in desktop publishing to enhance the quality of illustrations and brings the text up to date with discoveries and changes over the past 15 years. Terence Hines examines possibilities available in building a specialized collection of cards and covers with varying uses of the Prexie low value denominations. Walt Cole demonstrates how he assembled an award-winning collection featuring postal history associated with just one Prexie denomination: the 3c Jefferson. Robert Dalton Harris provides a fascinating tour through some of the logic of U.S. domestic first class frankings with Prexie denominations. Richard W. Helbock relates the complicated and changing pattern of international air mail usages during the World War II era. Stephen L. Suffet presents several approaches to building award-winning exhibits of the Prexies. The book concludes with a massive table showing international air mail rates from the U.S. to various nations and colonies during the 1938-1946 period, based on the late Henry Beecher's painstaking research. (100 pages; softbound.) #730701. $27.00.
__________
United States Doanes / 2nd Edition. (Richard W. Helbock & Gary Anderson/2002): This volume contains listings of all known Doane cancels (more than 23,000 of them!), with dates of use. There is also a SCARCITY index for each listing, ranging from 1 to 5, with "1" being the most common and "5" representing the rarities. Contains literally thousands of new reports since the original edition was published in 1993, and numerous illustrations of Doane cancels from some of the leading collections in the nation. This is a must for collectors and dealers alike. (336 pages; softbound.) #721002. $29.50.
This reference is also offered on CD-ROM. To see a list of reference literature available on CD-ROM, CLICK HERE.
______
Postmarks on Postcards/Revised 2nd Edition. (Richard W. Helbock/2002): It is a rare case when a reference book has equal appeal to collectors and dealers of postcards and postmarks alike, but here is just such a book. This 290-page volume is designed to provide both an introduction to all U.S. postmarks of the 1900-1920 era and a reference for anyone wishing to learn more about postmarks and postmark collecting. The first of two sections explores all U.S. postmark types found on cards and covers of the Postcard era; and the second provides details of which U.S. postmarks are collected. Part I consists of ten chapters featuring Doane cancels; Manuscript & Straight-line markings; Anachronisms & Mimics; and Machine Cancels, just to name a few. Each subject is carefully explained and well illustrated, and the discussion includes comments on the market value for each postmark type. The chapter on Machine Cancels includes a simple technique that enables the reader to make a rapid identification of the manufacturer of nearly all machine cancels of the 1900-1920 period. Part II discusses the major ways in which U.S. postmarks are collected. The six chapters include information about collecting by Geographic Regions, Rural Free Delivery, Railway Post Offices, Naval & Military Specialties and an entirely new chapter on Collecting Ancillary & Auxiliary Markings. The book wraps up with a Glossary of Postal History Terms; four Appendices providing specific data on the subjects of U.S. Doane cancels and Military & Naval postal history; and an Index. (290 pages; softbound.) #720101. $29.50.
This reference is also offered on CD-ROM. To see a list of reference literature available on CD-ROM, CLICK HERE.
__________

Early Air Mail & Aviation in Southern California. (Don Evans): This groundbreaking survey of the history of early air mail in Southern Califiornia from 1910 to the onset of World War II was originally published in La Posta: A Journal of American Postal History in serial format. The copiously illustrated work has been updated and reorganized, and the images for which color was unavailable are reproduced here in beautiful full-color figures. This will make a very worthwhile addition to the library of any collector interested in the history of early air mail or the broader postal history of Southern California. The text is reproduced in pdf format and the disc includes a copy of Adobe Acrobat Reader©. #730204. $24.95.
To see a list of other reference literature available on CD-ROM, CLICK HERE.
______
The Forwarding of Mail by the U.S. Post Office Department, 1792-2001. (Tony Wawrukiewicz/2001): Wawrukiewicz's first book on this subject was published in 1991, but as John Hotchner says in the preface to this new work, "...he has used the intervening ten years to work with others, to gather research materials, and to review tens of thousands of covers for examples and for puzzles to solve." A comprehensive, logical and easy reference to a subject which often hampers postal historians in their studies. As it covers a period dating almost to the exact beginning of the United States, it will be of major interest to all specialists - classic to modern. In fact, by not limiting his coverage to one particular era, the author has turned this work into a monumental contribution to the study of American postal history. Classics Society members will truly benefit from the pre-1900 chapters. Contains hundreds of illustrations showing examples of forwarded mail with accompanying explanations. (230 pages; hardbound.) #711101. $45.00.
__________
Postal Markings of the Panama-Pacific International Exposition: San Francisco, California 1915. (David Savadge/1997): A detailed examination of all of the postal markings of the PPIE Expo, plus information about first day usages of the commemorative stamps; concurrent use charts for the slogan machine cancels; perfins; seals; tickets; and more. A further expansion of the PPIE section in Bomar's work, which devoted 35 pages to the subject. (112 pages; unbound.) #970533. $30.00.
__________
The Identifier for Carriers, Locals, Fakes, Forgeries and Bogus Posts of the United States: Volume I. (Larry Lyons/1998): A guide to distinguishing the forgeries from the genuine stamps, concentrating on pre-1900 Scott listed and unlisted adhesive Local Posts. This is the most comprehensive work on this subject, and contains much original research. Listings are alphabetical. Volume I covers the letter "A" through "Empire Dispatch," with 129 posts represented. The Patton Volume I has been completely revised, corrected, updated and integrated into this text. The unpublished Patton Volume II has also been totally revised and incorporated into this text. 934 pictures; 428 sketches; 8 pages of color photos. (496 pages; hardbound.) #980603. $88.00.
_________

The Identifier for Carriers, Locals, Fakes, Forgeries and Bogus Posts of the United States: Volume II. (Larry Lyons/1998): Volume II of the alphabetically arranged three-volume set. Includes "Essex Letter Express" through "Putnam's Penny Post." 1,041 pictures; 631 sketches; 8 pages of color photos. (490 pages; hardbound.) #980604. $88.00.
_________

The Identifier for Carriers, Locals, Fakes, Forgeries and Bogus Posts of the United States: Volume III. (Larry Lyons/1998): Volume II of the alphabetically arranged three-volume set. Includes "Raymonds" through "Ziebers." Hundreds of pictures and sketches. 8 pages of color photos. (512 pages; hardbound.) #791102. $88.00.
__________
The 2007 Pricing Guide for the Unlisted Carriers, Locals, Fakes, Forgeries and Bogus Posts of the United States. (Larry Lyons/2007): This booklet llustrates and prices all of the examples written about in Lyon's three-volume work: The Identifier for Carriers, Locals, Fakes, Forgeries, and Bogus Posts of the United States. A valuable guide book to this increasingly popular collecting area. (73 pages; card cover.) #791103. $25.00.
__________
Doane Cancels of Illinois, Iowa, Kansas, Michigan, Missouri and Nebraska. (Jim Mehrer/2003): Listing and valuation of all reported Doane cancels from these states. Includes cancel type, earliest & latest dates of use, years of operation, and county. Also includes offices believed to have used Doane cancels, but from which none are known. Hundreds of changes since the 2001 edition! (74 pages; unbound, three-hole punched.) #710703. $20.00.
__________
United States Letter Rates to Foreign Destinations, 1847 to GPU-UPU (1990 Edition). (Charles J. Starnes/1990): Detailed rate tables from the U.S. to every country in the world for all mail systems, with appendices covering British Treaty Mail via Marseilles, French postal charges, Bremen transit charges, UPU entrance dates. (176 pages; cloth hardbound.) #970419. $44.00.
__________
U.S. Domestic Postal Rates, 1872-1999, Revised Second Edition. (Anthony S. Wawrukiewicz & Henry W. Beecher/2000): This second edition overcomes significant shortcomings found in the first edition, and besides containing the new rates and fees introduced since 1993, it also includes almost 90 pages of new information.
The most important improvement is that the text material has been integrated with the rate tables, so that one doesn't have to look at two separate parts of the book to evaluate a cover for a certain rate or fee. Also, the binding is the much stronger binding, the same as the one used for the international volume. There is now information on merchandise receipts, the penalty for early redemption of a postal savings account, the inquiry form for forwarding an undeliverable registered item, the process of remailing a post card, and the rules for readdressing first-class mail, either in appropriate chapters or in an appendix. Extensive additional information concerning the free mail and registry processes is included, as is a discussion of Standard Mail and a fine chapter concerning Mailer's Permit Postmarks, courtesy of Ken Lawrence.
In addition, if a collector has a parcel post label or other parcel post usage, it should now be possible to determine the parcel post zone for the piece without going to an atlas, for any well-known city and any city with a population of more than 5,000 in 1913. There is now a perpetual calendar available in Appendix 7 from which the interested reader can determine the day of the week for any date from 1870 to 2009.
Since there are many services for which examples cannot be found franked with adhesive stamps, there are two appendices that discuss the basics of Meter Stamps and Permit Imprints for those who might desire such an introduction or wish to expand their knowledge in these areas. There are many illustrations of these methods of payment included in this edition.
The first edition was copiously illustrated; however, many new examples of rare and unusual usages have been located and included, as well as illustrations of some rates and fees where no illustrations were known in 1993. (338 pages; softbound.) #990902. $44.00.
__________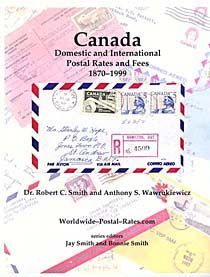 Canada Domestic & International Postal Rates & Fees 1870-1999. (Dr. Robert C. Smith & Anthony Wawrukiewicz/2000): A useful reference with data compiled by Canadian postal rate expert Dr. Robert C. Smith and organized by U.S. rate expert Anthony S. Wawrukiewicz, this publication presents the vast majority of postal rates that a collector is likely to encounter. Organized in such a way that all necessary information to rate a cover is found on a single page, even if you do not know if the cover contained a letter or printed papers, this book makes quick work of looking up covers' rates. (55 pages; loose-leaf binder.) #760107. $55.00.
__________
U.S. International Postal Rates, 1872-1996. (Anthony S. Wawrukiewicz & Henry W. Beecher/1996): The second volume of the "must have" definitive two-part series concerning U.S. rates, this lavishly illustrated work will offer an almost complete compendium of U.S. international rates/fees for all mail originating in the U.S. and mailed to other Universal Postal Union (UPU) countries from 1872-1996. Although the rates are for members of the UPU, many of the rates included here are pre-UPU or special treaty rates for countries that now are UPU members. Every effort has been made to illustrate these rates and fees, including those for a number of recently introduced services such as Internation Priority Mail and Global Priority Mail.
Of special importance are the extensive airmail letter rate tables. Early airmail rates from the US to foreign lands are extremely complex. The authors have attempted to make these rates more understandable by giving each country's airmail rates in individual tables for most UPU members, from inception of airmail service to each country until 1946, when these rates simplified markedly.
Other important material is included. A historical perspective of the UPU and its rates and fees is presented as well as James Negus' complete UPU membership listing. There is a large chapter that includes extensive incoming (to the U.S.) rates and fees for UPU members, with surface rates/fees listed from 1879 until 1950, and surface and airmail rates from 1950 until 1971.
There is a separate chapter devoted to the incoming and outgoing rates/fees between Canada and the US. Also, there is an appendix of abridged and therefore simplified international and domestic tables. These tables are organized by rates and fees used during each bureau issue (e.g., Fourth Bureau Issue, the Prexies, the 1954 Liberty issue, the Americana series, etc.). Because no more than two pages are dedicated to each stamp series, not all rates and fees are included in these special tables, but those listed will explain the vast majority of covers that one needs to research.
There are major changes in this international volume compared to the domestic rate book which preceded it. Text is now in larger type. The text and tables for each rate or service fee are together, not separated as they are in the domestic book. A stronger binding has been used. The index is extensive, and care has been take to cross-reference all countries and entities so that the readers are readily able to identify a country, no matter by what name it is known to them. (416 pages.)
Hardbound: #970385. $55.00.
Softbound: #970386. $44.00.
__________
The Handstamps of Wells, Fargo & Co., 1852 to 1895. (John F. Leutzinger/1993): The original edition has been the standard work on the subject since it appeared in 1968. This new edition is much expanded and improved. (382 pages; cloth hardbound.) #970425. $50.00.
__________
Fresno and San Francisco Bicycle Post of 1894. (Lowell B. Cooper/1983): Detailed study of Banta's postal and philatelic local. The Wells Fargo activity during the ARU strike are also covered. (152 pages; cloth hardbound.) #970420. $55.00.
__________
The Postal Markings and Postal History of the Forwarding Agents (1996 Edition). (Ken Row/1996): A complete updating of the 1984 edition, containing 400 changes in listings, with 1,200 new agents and 80 more cities. As an option, a Search File (to find agents if the city is unknown or the marking is incomplete) is available on an IBM format 3.5" disk. (The 1984 edition of the book contained a listing by first surname, which is not in the 1996 edition.) (288 pages; cloth hardbound.) With disk (#970421): $60.00. Without disk (#970422): $55.00.
__________
Confederate States of America: Philatelic Subject Index and Bibliography, 1862-1984. (Richard H. Byne/1986): An index and bibliography with no comparison in American philately. Over 5,700 books, articles, auction catalogs, and show programs are cited, giving the basic description. Over 20,000 references by subject. Four appendices: abbreviations, authors, publications and illustrations of early books. (352 pages; cloth hardbound.) #970423. $60.00.
__________
Confederate States of America: Markings and Postal History of Richmond, Virginia. (Peter W.W. Powell/1987): All known Confederate States of America markings from Richmond, plus a few pre-War markings that have not yet been found used in the Confederate States. The eight basic types of circular date stamps are actually 49 discrete markings. 142 halftones; 117 line cuts. (188 pages; cloth hardbound.) #970424. $55.00.


---
ALL BOOKS ARE PRICED POSTPAID IN U.S.
INTERNATIONAL ORDERS: Before ordering, please email us for the shipping charge.
ILLINOIS RESIDENTS: Add 8.5% state sales tax to your order.
See ORDERING INFORMATION at the top of this page by clicking here.
To return to the Main Literature Page, click here.


---
To view our Mail Bid Sale catalog, click here.
To go to our Postal History Net Price List, click here.
To see our list of Supplies for Collectors, click here.
For information about consigning material for our Mail Bid Sales, click here.
To see our Show Calendar for Collectors of Stamps, Postal History and Postcards, click here.
To see our Postcard Net Price List click here.
To see our Old-Time Postmark Calendar click here.
To go to our Phone Card page click here.
To return to our Home Page, click here.

---
Comments? Questions? Email us at

mehrer@postal-history.com
Visitor counter provided by http://www.digits.com/:
Note: this counter is occasionally reset due to change of programs or other reasons. For the record: from June 25, 1996, to February 27, 1998, more than 25,000 visitors accessed our site.

©2002 Jim Mehrer. REPRODUCTION OF THE CONTENTS OF THIS PAGE, IN PART OR WHOLE, IS EXPRESSLY PROHIBITED.

---